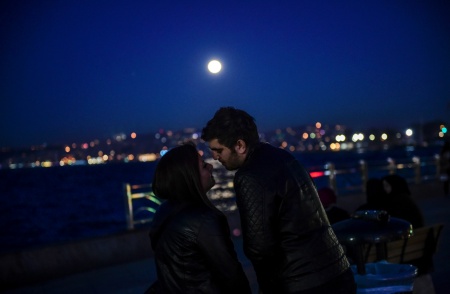 A couple shares a romantic moment as the full moon rises in the background on February 22, 2016. ; Credit: BULENT KILIC/AFP/Getty Images
AirTalk®
It's no secret that young adults today are waiting longer than previous generations to get married and have children.
New data from the University of Chicago-based General Social Survey (GSS) shows that young people aren't just waiting longer to put a ring on it, they're also in no rush to even be in a relationship.
The GSS, an annual survey that examines Americans attitudes and behaviors towards trends, showed that 51 percent of Americans between ages 18 and 34 don't have a steady romantic partner, up from 33 percent last year. That number is higher among those who don't have a job — 54 percent — compared to 32 percent of employed adults who said they didn't have a steady partner. This trend could be having an effect on housing too, as more single people could mean more people living along, which means more need for places to live.
What are the factors contributing to this rise in young Americans without a steady romantic partner? Are there economic factors at play, or is it simply a case-by-case personal decision?
Guests:
Emily Guskin, polling analyst at the Washington Post; she tweets @EmGusk
Jessica Carbino, online dating and relationship expert and former sociologist at Bumble and Tinder; she tweets @drjesscarbino
This content is from Southern California Public Radio. View the original story at SCPR.org.
Read the Full Story at KPCC Blogs