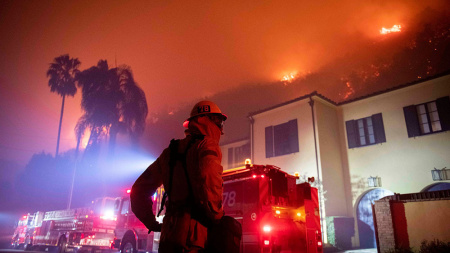 Firefighters establish a perimeter during the Getty fire.; Credit: Christian Monterrosa/AP/Shutters/Christian Monterrosa/AP/Shutters
AirTalk®
Today on AirTalk, we bring you updates on the Getty fire as it burns west of the Sepulveda Pass.
The Getty Fire broke out early Monday morning on the west side of the 405 Freeway in the Sepulveda Pass. Mandatory evacuations are underway.
Text READY to 888 777 – to receive early warning notifications from the city on the fire.
For more coverage from KPCC and LAist, click here. 
GUESTS:
Brian Humphrey, public information officer at the Los Angeles Fire Department
Mark Jackson, meteorologist with the National Weather Service in Los Angeles 
Jarrett Barrios, CEO of Red Cross Los Angeles Region
John Binder, president of the Upper Mandeville Canyon Association, a property owners association representing approximately 300 families in Upper Mandeville Canyon, which is the area north of 2700 Mandeville Canyon Road
Robert Garrova, KPCC reporter
Mike Bonin, councilmember for the 11th District of the City of Los Angeles, which encompasses Pacific Palisades, Brentwood and other affected neighborhoods west of the 405
Emily Guerin, KPCC reporter
Sharon McNary, KPCC reporter
Char Miller, professor of environmental analysis and history at Pomona College
Marti Witter, fire ecologist for the Santa Monica Mountains Recreational Area, as part of the National Park Service
Ellen Cheng, spokesperson with the Los Angeles Department of Water & Power
Lisa Lapin, vice president of communications for The Getty Center
Paul Koretz, councilmember for the 5th district of the City of Los Angeles, which encompasses communities in the Westside, central-eastern Santa Monica Mountains, and central-southern San Fernando Valley
Jon Keely, fire ecologist and adjunct professor of ecology and evolutionary biology at UCLA
Lorna Esparza, captain with the department of Animal Services West Valley Care Center 
This content is from Southern California Public Radio. View the original story at SCPR.org.
Read the Full Story at KPCC Blogs