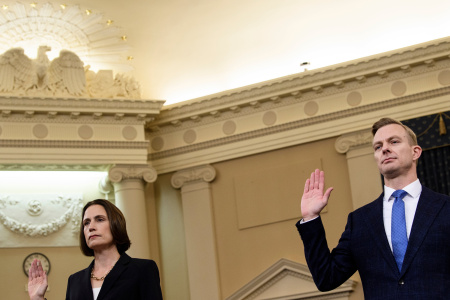 Fiona Hill, the former top Russia expert on the National Security Council, and David Holmes, a State Department official stationed at the US Embassy in Ukraine are sworn-in before they testify during the House Intelligence Committee hearing as part of the impeachment inquiry.; Credit: BRENDAN SMIALOWSKI/AFP via Getty Images
AirTalk®
The fifth edition of impeachment hearing testimony featured former White House national security adviser Fiona Hill (author of Mr. Putin: Operative in the Kremlin), and David Holmes, a U.S. Embassy political counselor in Ukraine who claims to have been privy to an incriminating phone call between EU ambassador Gordon Sondland and President Donald Trump. 
Hill's brief opening statement affirmed American intelligence findings that Russia, rather than Ukraine, meddled in the 2016 presidential elections, and chided Republicans for suggesting otherwise. In House Intelligence Committee Chair Adam Schiff and Democratic counsel David Goldman's opening line of questioning, Holmes again testified that he overheard a loud cell phone conversation on July 26 between Trump and Sondland outside a Kyiv restaurant in which the president asked Sondland if Ukrainian President Volodymyr Zelenskiy was "gonna do the investigation?" Holmes said Sondland responded that Zelenskiy would do anything Trump asked him to do. Holmes asked Sondland whether Trump was concerned over Russian aggression towards Ukraine, to which he said Sondland replied that the president only cares about "'big stuff' that benefits the president, like the 'Biden investigation' that Mr. Giuliani was pushing."
With files from the Associated Press
Guests:
Michael Isikoff, chief investigative correspondent with Yahoo News, he covered the Clinton impeachment process, he's the author of "Uncovering Clinton" (1999); he tweets @Isikoff     
Sean T. Walsh, Republican political analyst and partner at Wilson Walsh Consulting in San Francisco; he is a former adviser to California Governors Pete Wilson and Arnold Schwarzenegger and a former White House staffer for Presidents Reagan and H.W. Bush
Amanda Renteria, president of Emerge America, a national organization that works to identify and train Democratic women who want to run for political office; she is the former national political director for Hillary Clinton's 2016 presidential campaign and has been a staffer for Senators Dianne Feinstein (D-CA) and Debbie Stabenow (D-MI); she tweets @AmandaRenteria
Dan Caldwell, professor of political science at Pepperdine
Barbara McQuade, professor of law at the University of Michigan and former U.S. Attorney for the Eastern District of Michigan (2010-2017); she tweets @BarbMcQuade
This content is from Southern California Public Radio. View the original story at SCPR.org.
Read the Full Story at KPCC Blogs