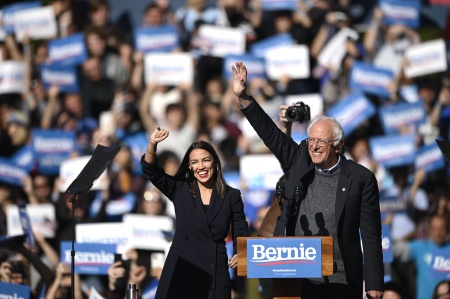 2020 Democratic presidential hopeful US Senator Bernie Sanders (D-VT) and representative Alexandria Ocasio-Cortez (D-NY) wave to a crowd of supporters during a campaign rally.; Credit: JOHANNES EISELE/AFP via Getty Images
AirTalk®
Sen. Bernie Sanders has a current edge in the field of candidates hoping to be the face of the Democratic party come November. According to NPR News, he's rising in the polls among Democrats. But other polls show most Americans aren't that into the idea of socialism, which is something Sanders identifies with.
Nearly 60 percent of adults said they have an unfavorable impression of socialism, according to the NPR/PBS NewsHour/Marist poll. Positive opinions of socialism decline with increased age, yet even half of millennials and Gen Z weren't thrilled with the idea. But progressive Democrats do see socialism in a favorable light.
Today on AirTalk, we take a look at the evolution of public attitudes toward socialism. Also, what does socialism really mean and how has the meaning changed over time? We want to hear your thoughts? Has your opinion of socialism changed over time? Do you look at favorably or unfavorably? Could it hurt Sanders in his bid for president? Join the conversation by calling 866-893-5722.
Guests: 
Lydia Saad, a researcher at Gallup where she writes extensively about U.S. public opinion; she tweets @LydiaSaad1
Sheri Berman, professor of political science at Barnard College who specializes in the history of social democracy
Zachary Courser, visiting assistant professor of government at Claremont McKenna College and co-director of the CMC Policy Lab; he tweets @zcourser
This content is from Southern California Public Radio. View the original story at SCPR.org.
Read the Full Story at KPCC Blogs