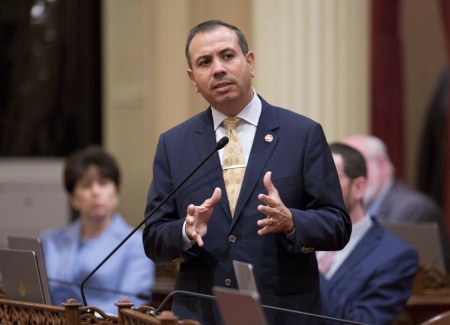 California state Sen. Tony Mendoza, D-Artesia, announces that he will take a month-long leave of absence while an investigation into sexual misconduct allegations against him are completed during the opening day of the Senate in Sacramento, Wednesday, Jan. 3, 2018.; Credit: Steve Yeater/AP
KPCC Staff | AirTalk®
California state senator Tony Mendoza resigned Thursday from the Legislature after an independent investigation found that he "more likely than not" harassed several women he worked with during his tenure at the state Capitol.
Mendoza, who represents the Artesia area, was suspended last fall when the harassment charges came to light.
He denies the charges and his resignation letter called into question the integrity of the investigation. The resignation came after Senate President Pro Tem Kevin de León introduced Senate Resolution 85 on Wednesday, which cites the house's zero-tolerance sexual harassment policy and the results of the investigation as grounds to expel Sen. Tony Mendoza.
Mendoza joined us on AirTalk to discuss the allegations.
It is with great pain that I resign today from the Senate. This secretive investigation, with no Due Process and Disparate Treatment, left me with no other choice… (read my letter) pic.twitter.com/KtOoDws5mE

— Tony Mendoza (@MrTonyMendoza) February 22, 2018
Though he questioned the integrity of the investigation in his resignation letter, he said he was not given an opportunity to defend himself against the allegations.
"I think things need to be changing in the workplace, and I agree with that. Now, if I ever, ever made anyone feel uncomfortable, and I would have — I apologize for my behavior, because that is not who I am, that's not what I'm about. And I wanted to make sure that was clear," he said.
We reached out to California's Senate President pro Tem Kevin de León but he declined to join us. He sent us this statement.
Assemblywoman Cristina Garcia, another state lawmaker who represents part of L.A. County, is also on leave amid accusations of sexual harassment.
Guest:
Tony Mendoza, former California state senator (D-Artesia); he tweets @MrTonyMendoza
This content is from Southern California Public Radio. View the original story at SCPR.org.
Read the Full Story at KPCC Blogs