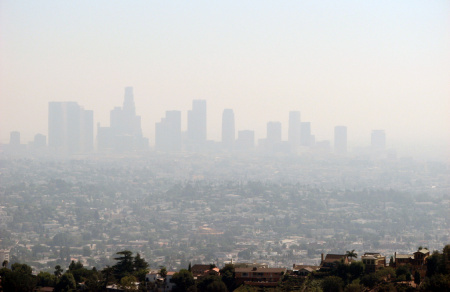 Smog blankets downtown Los Angeles.; Credit: Photo by Ben Amstutz via Flickr Creative Commons
AirTalk®
According to the recently released American Lung Association's "State of the Air" annual report, Los Angeles-Long Beach, CA is the nation's most polluted city in the ozone ranking.
And it's not far from taking the number one spot in the "year round particle pollution" and "short-term particle pollution" rankings either.  
That means we've had the largest number of high ozone days this year. The Golden State didn't do so hot overall either, with seven other cities coming in as smoggiest in the top ten.
But one silver lining is that L.A. isn't nearly as bad as it was a few decades ago. We check in on our current smog levels and zoom out to L.A's larger history of air pollution and reduction efforts.
Guests:
Philip Fine, deputy executive officer for planning, rule development & area sources at South Coast Air Quality Management District
Sharon McNary, KPCC's infrastructure correspondent; she tweets @KPCCsharon
This content is from Southern California Public Radio. View the original story at SCPR.org.
Read the Full Story at KPCC Blogs