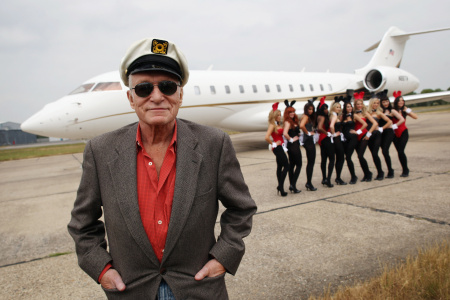 Playboy founder Hugh Hefner arrives at Stansted Airport on June 2, 2011 in Stansted, England.; Credit: Dan Kitwood/Getty Images
AirTalk®
On Wednesday, Hugh Hefner, the founder of "Playboy" magazine, passed away in his home at age 91. Hefner, known to most as simply "Hef," started the iconic publication in his kitchen in Chicago with $8,000.
The first issue, featuring a nude profile of Marilyn Monroe, sold out within days of the launch. From there, Hefner build an empire around the evolution of sexuality in the latter half of 20th century. An artistic  pioneer, a civil rights activist, a philanthropist and a controversial womanizer, Hefner wore many hats in shaping American pop culture.
Steven Watts, author of the biography "Mr. Playboy: Hugh Hefner and the American Dream," talk about the life of the original playboy with KPCC's Larry Mantle and AirTalk callers.
Anna from Beverly Hills was a Playmate in 1973. She shared fond memories from the mansion:
I think Playmates were liberated at a time when there was a double standard of sexuality. Hugh Hefner showed the world that brilliant … women could show their bodies and not be embarrassed by nudity. I never felt any pressure to be a sexual object … to sleep with him … or his guests.
Frances from Jackson, Wyoming was an assistant director of Playmate Promotions, critical of her time at the company:
The Playmates were exploited a great deal. There's pressure to have some sort of relationship with Hugh Hefner if you're a Playmate of the Year. I don't think he was a person who promoted women … he promoted his magazine and himself.
Sarah from West Hollywood was recruited to try out for a centerfold in the 1970s. She said she was traumatized by her experience at the studio:
I was isolated from the person who came with me. They would talk about my body in a very crude way. What I was going to do was very limited, but they kept getting me to do more and more. I was going along, but getting more distressed. They wanted me to do this particular thing, and I just trashed the photo studio. … When I returned home to Chicago from that I became anorexic for two years.
Robert from Venice worked on the creative side of the magazine:
I was the art director in the early '90s at Playboy videos. The brand has inspired thousands of photographers. It's not a magazine hidden in the closet, it was diagnosed by photographers. We learned things, we saw things. It was a wonderful resource. It was inspirational for people who loved the magazine.
This content is from Southern California Public Radio. View the original story at SCPR.org.
Read the Full Story at KPCC Blogs