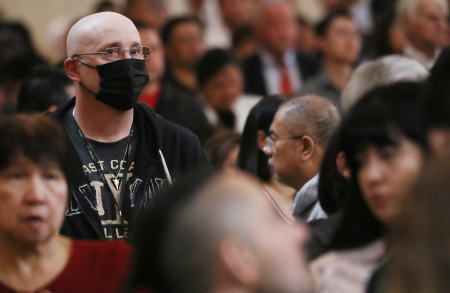 A worshipper wears a face mask to protect against the coronavirus while sitting in a pew at the Cathedral of Our Lady of the Angels on Ash Wednesday on February 26, 2020 in Los Angeles, California.; Credit: Mario Tama/Getty Images
AirTalk®
Officials this week confirmed the first case of the coronavirus without a known origin. According to SacBee, officials with the CDC confirmed the case Wednesday in Northern California and say the individual is receiving treatment in Sacramento County. 
The patient reportedly wasn't tested for the virus for several days. According to the L.A. times, the case was reported out of Solano County. That's where Travis Air Force Base is located. Some travelers from China have been quarantined there. The deadly disease first broke in China in December, but has been rapidly spreading to 47 countries. More than 80,000 people have been infected. The CDC has warned that now is the time for the U.S. to prepare for worldwide spread. Researchers are working on a vaccine, and one drug company said earlier this week its first batch is ready to be tested on humans. As officials warn of the inevitable spread of the virus, we check in on what's happening locally and what officials in Sacramento are doing to prepare.
Guest:
Anne Rimoin, professor of epidemiology at UCLA; she tweets @arimoin
This content is from Southern California Public Radio. View the original story at SCPR.org.
Read the Full Story at KPCC Blogs