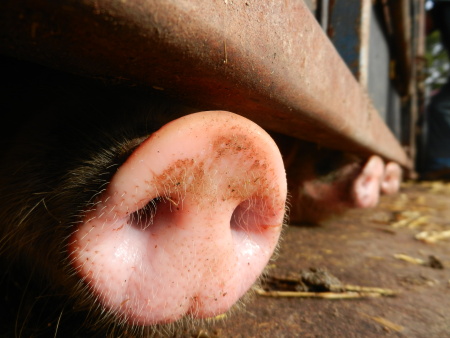 A group of pigs resting at a livestock farm.; Credit: Photo by BAKAEDAR via Flickr Creative Commons
AirTalk®
Prop 12, the "Farm Animal Confinement Initiative," requires California farmers to provide a specific minimum square footage for confined animals such as calves raised for veal, breeding pigs, and egg-laying hens.
Prop 12 also bans the sale of products from animals confined in areas below the requirement. The proposition is a stronger version of Prop 2 (2008) that only specified that such animals be able to lay, sit, stand, and turn around freely.
Supporters say that Prop 12, introduced by the Humane Society, prevents animal cruelty. Opponents such as egg and pork farmers say Prop 12 will drive up food costs and create a possible shortage. People for the Ethical Treatment of Animals has also come out against Prop 12, accusing the Humane Society for conspiring with the egg industry.
Ready for Election Day? Get up to speed on what you need to know with our Voter Game Plan at elections.laist.com. Read up on the candidates and ballot measures, find out about registration deadlines or ask us your questions.
Guests:
Josh Balk, spokesperson for the Yes on 12 campaign and vice president of Vice President of Farm Animal Protection at The Humane Society of the United States, an animal advocacy organization
Bradley Miller, spokesperson for the No on 12 campaign, and Californians Against Cruelty, Cages and Fraud., a nonprofit which advocates for farm animal protection
This content is from Southern California Public Radio. View the original story at SCPR.org.
Read the Full Story at KPCC Blogs